If your store Prestashop installed locally, you seem ready to venture into the jungle of online shops.
If you've tweaked your catalog and photos, set a theme that seems right to you and your modules are functioning properly. Then you can consider the transfer online.
For this you need an accommodation with PHP5 and MySQL database.
The procedure is fairly simple to execute.
Procedure to run for versions of PrestaShop> 1.4 (only).
You have to go on the site you want to move, in the administration, Preferences tab> SEO & URLs.
At the bottom of this tab, you must enter your new domain name (eg www.maboutique.com). Do the same for the domain SSL (typically, the two fields are equal).
If you forget to do this, you can change the table in the "config" in your database. The names of the keys are PS_SHOP_DOMAIN and PS_SHOP_DOMAIN_SSL.

Transferring files
First, you need to transfer all of your files including the PrestaShop folder on your local server (According to our tutorials, c: \ xampp \ htdocs \ prestashop) to a folder on your server.
For this you must use an FTP client and set it so that it can connect to your server. If you do not have a client, you can download the excellent FileZilla.
Once installed, start it and configure it so that it can connect to. Click the top left icon (circled in red in the picture), click the new site, then fill in the various fields with the FTP credentials of your hosting (host authentication type: Normal, User, Password ).
Then click connection (for connecting later, simply just click on the small arrow next to the icon and select your server).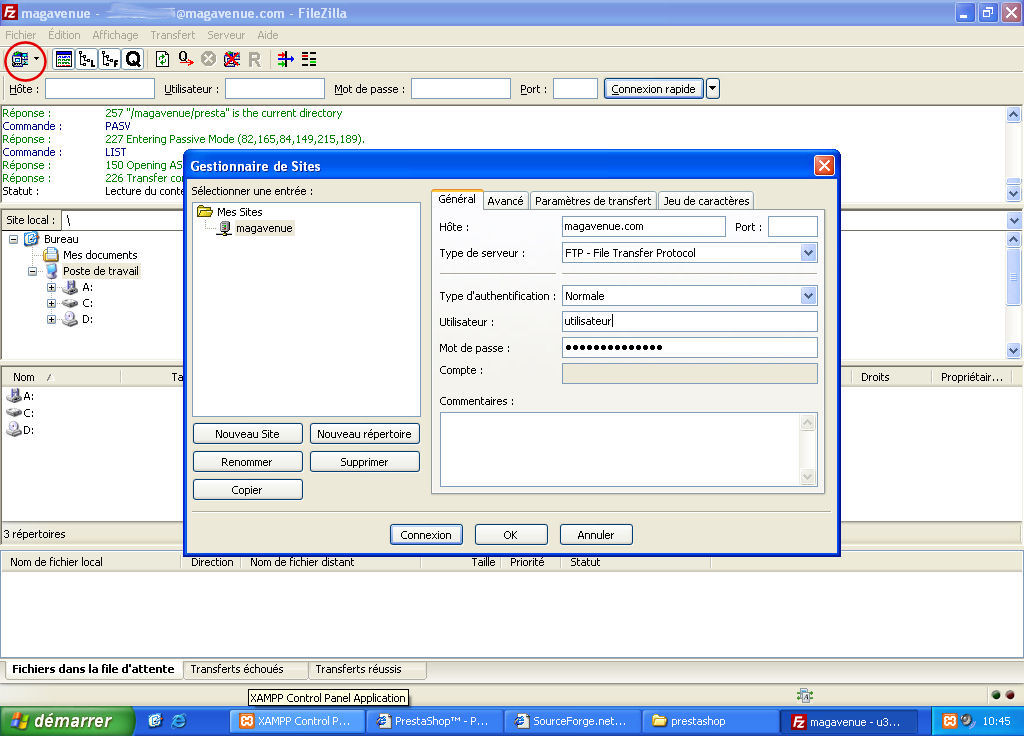 Once you are logged in on your server, on this one, create a new folder in which to store your content. Note the path to this folder (if it is at the root, or in subfolders, pointed in red on the picture below), it will be necessary for later.
You can now transfer all files in the folder in Prestashop this newly created folder (this may take several minutes, you can continue the tutorial during transfer).
Transfer of the database
We will address the second step of our tutorial: the transfer of the database.
Please connect first to your local database with Phpmyadmin.
If you use Xampp, navigate to http://127.0.0.1/phpmyadmin then click your database in the left tab (if you followed our design tutorial, the database is called "maboutiqueprestashop").
Then in the top tabs on the right panel click export. Finally select "Submit" at the bottom of the page, and then click Run. You only need to save the file.
You must now send this file to your online database.
So you have to create your webhost a database. (Ask us advice in the comments, if you do not succeed). After appointment in the administration of it and click the top tab "SQL". At the bottom, in the "Location of the text file or" Select the file we created previously by clicking on "Browse" and click Run.
You should get this screen, confirming that the operation was successfully executed.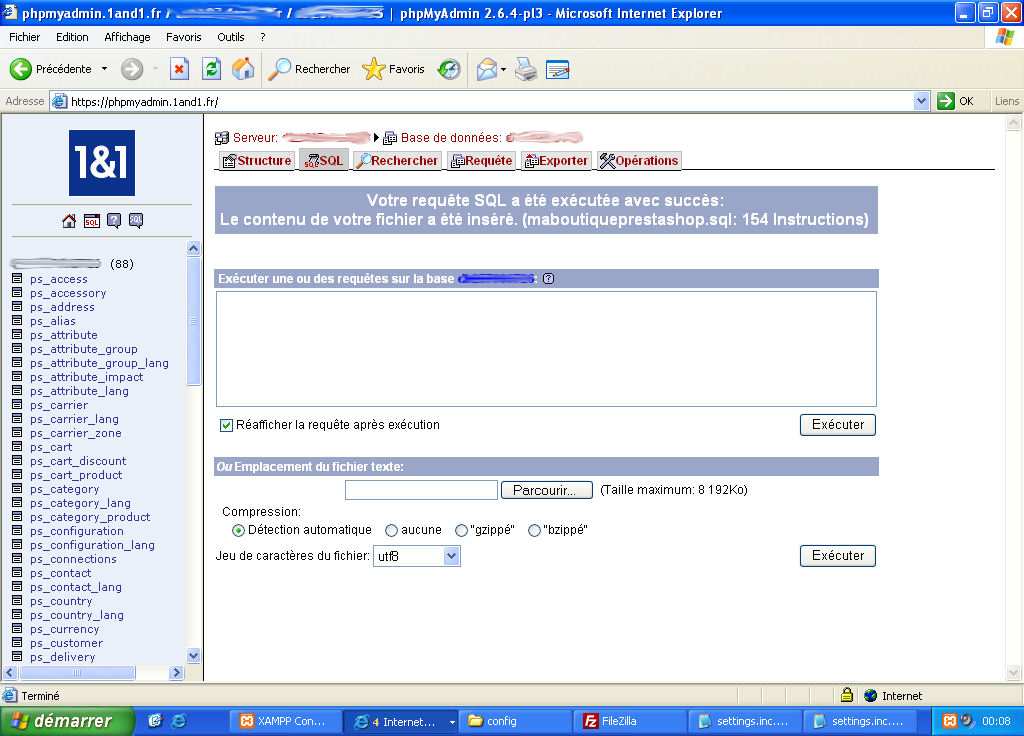 Editing configuration files
Your shop is online, your new database too, so you have to communicate the two elements together.
For this you must edit the file "settings.inc.php" contained in the "config" folder of your prestashop folder. Consider making a copy of it before making any changes to your local shop can still walk.
After copying done, edit the file by entering the server address of your database, the user name, password, and the name of the database (corresponding to the writing below red below).
Your file should look like this:
<? php
define ('_ DB_SERVER_', 'The address of the database');
define ('_ DB_TYPE_', 'MySQL');
define ('_ DB_NAME_', 'the name of the database');
define ('_ DB_USER_', 'the user name of the database');
define ('_ DB_PASSWD_', 'password of the database');
define ('_ DB_PREFIX_', 'ps_');
define ('__ PS_BASE_URI__', 'way to access, eg: Magavenue / prestashop /');
define ('_ THEME_NAME_', 'prestashop');
define ('_ COOKIE_KEY_', 'jvWTG927f36aEBKNup.aw3SgK7KpqsovInE96FjxCiATop8cQJ0cGisN');
define ('_ COOKIE_IV_', 'esx2tyg4');
define ('_ PS_CREATION_DATE_', '2008-00-21');
define ('_ PS_VERSION_', '1.0.0.3');
?>
The last thing to change in this file is the path to the PrestaShop folder on your hosting. Remember earlier in the tutorial, we asked you to stop him. Then insert the line 8 (instead of green text)
Now that your file is modified, save it and then you just have to send it to your server. Log onto it with your FTP client (like FileZilla) and then visit you in the PrestaShop folder and sub-folder in the "config". Send your new file and the software prompts you, choose to replace both files.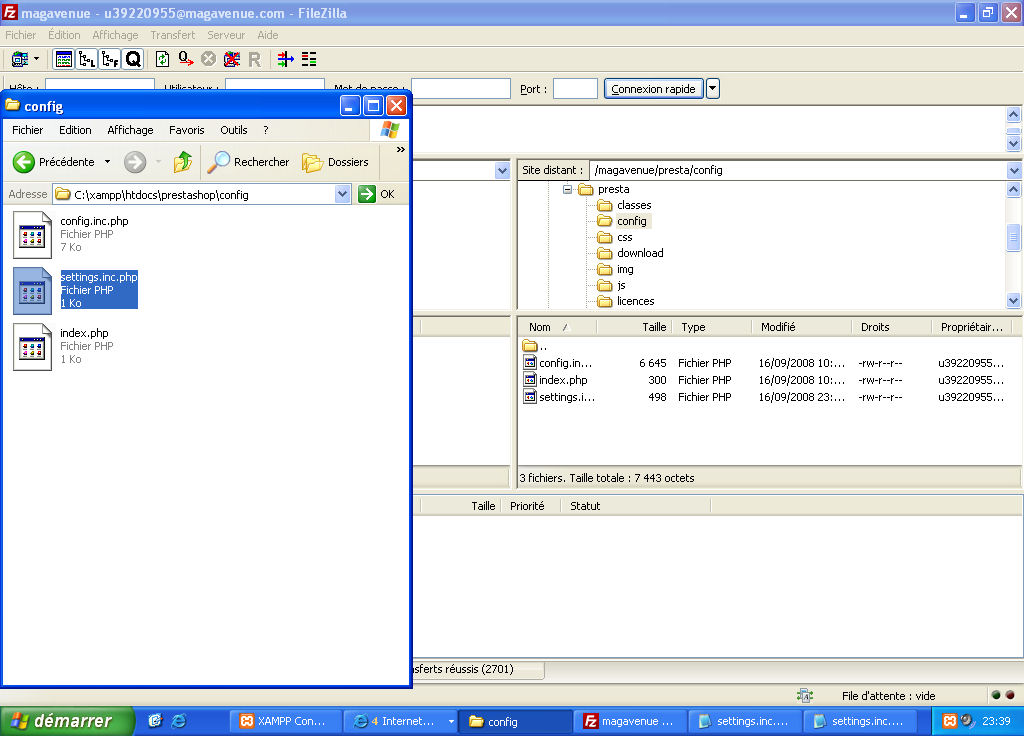 Solving common problems:
You are trying to access your online store, but you come across a page without any "design", like the one below. Your connection to the database is correct, but the path is invalid against. Change therefore as stated above, if you still have a problem, contact us in the comments.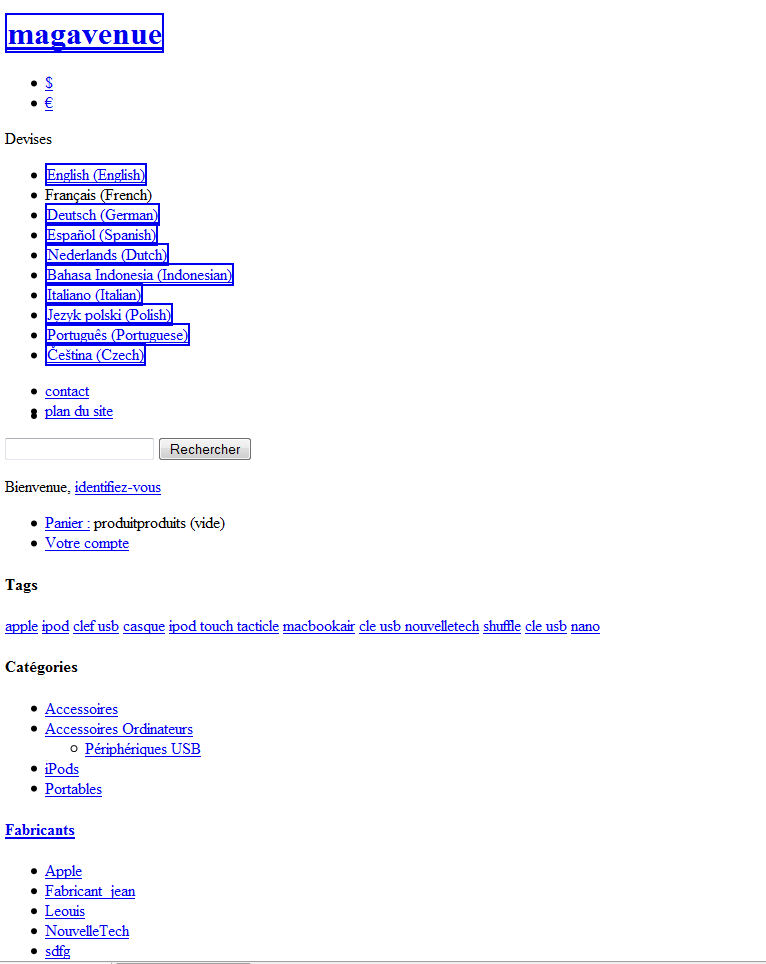 - Nothing appears Ormis an error message (such as: The database selection can not be made or Link to database can not be Established), it means your settings.inc.php file is known about the details of your base data. So check with your hosting various settings, and modify the file as said before. If you still can not connect, please contact us via the comments.
CONCLUSION:
- When trying to access the site, you are redirected to localhost or an address other than your domain name. Make sure you have well done the domain name change to Preferences> & SEO Urls. If you forget to do this, you can change the table in the "config" in your database. The names of the keys are PS_SHOP_DOMAIN and PS_SHOP_DOMAIN_SSL.
Your shop is now online. If you have shops addresses to show us you can send in comments below. Finally we are happy to help any person who has not been able to follow this tutorial.
Our team also offers to take care of your installation of PrestaShop on your server. More on this page.
Articles on the same subject:

Magento: Transfer your online shop on your server from a local installation Feel free to subscribe to the RSS feed to not miss any article.Dans our previous tutorial, we showed you how to install Magento on your computer using Xampp, we'll explain here how to transfer your store on a ...
How to prepare the creation of your online store with Magento or Prestashop Feel free to subscribe to the RSS feed to not miss any article.Vous want to get started in ecommerce and implement an online store, two options are available you: You already have a business and want to develop your ...
PrestaShop v1.1: Import an entire catalog in your shop from a .csv file (Excel, Calc ...) Please feel free to subscribe to the RSS feed to not miss any article.Comment import many products, many PrestaShop categories in my catalog.

Thanks to CSV (Comma Separated Values), you have the ability to import large quantities of ...
739 comments why not let yours?
We do not bring support for comments for a technical problem with one of our modules.
Thank you to contact us directly with our contact form!
Hello,

I need help when the publication of the site. I created a no comprehensive showcase, which works in localhost.
I tried to publish it on my free web host, and I'm left with this message of error:
Parse error: syntax error, unexpected T_OBJECT_OPERATOR in /mnt/100/sdb/b/a/r.test/alcobaie/index.php on line 29
So, I wanted to go localhost, I gave the original file répertoirte config / settings.inc (which I had saved), and I went to change the values ​​in the config table via mysql for fields ps_shop_domain and ps_shop_domain_ssl. I handed to 127.0.0.1 2.
And the same message comes back, I drive to the host with always free:
Parse error: syntax error, unexpected T_OBJECT_OPERATOR in /mnt/100/sdb/b/a/r.test/alcobaie/index.php on line 29
R.TEST with who my domain name to free.
Do you have an idea for me to run again in the showcase localhost?

thank you

Robert E. September 7, 2015 at 11 am 44 min

Hello, and thank you above all for this valuable information. I created my site locally with MAMP on Mac OS and here are the errors I can not help. I am new.
Notice: Constant __PS_BASE_URI__ already defined in /homepages/45/d553115644/htdocs/zensation/prestashop/config/config.inc.php on line 107

Warning: Can not modify header information - headers already sent by (output started at /homepages/45/d553115644/htdocs/zensation/prestashop/config/config.inc.php:107) in / homepages / 45 / d553115644 / htdocs / Zensation / prestashop / classes / controller / FrontController.php on line 814

Warning: Can not modify header information - headers already sent by (output started at /homepages/45/d553115644/htdocs/zensation/prestashop/config/config.inc.php:107) in / homepages / 45 / d553115644 / htdocs / Zensation / prestashop / controllers / forehead / PageNotFoundController.php on line 39

Warning: Can not modify header information - headers already sent by (output started at /homepages/45/d553115644/htdocs/zensation/prestashop/config/config.inc.php:107) in / homepages / 45 / d553115644 / htdocs / Zensation / prestashop / controllers / forehead / PageNotFoundController.php on line 40

william February 6, 2015 at 12 o'clock 55 min

Hello
Thank you so much for these explanations that allowed me to transfer a developing shop without too much hassle!

Simon B 21 January 2015 to 18 hours 53 min

Hello,
I have to transfer my site locally on a shared server
images and design of the products are not displayed (only the pictures added to the text appear).
I use prestashop 1.5 and there is not this line in .htaccess 8 ...

Help…
Thank you and happy new year

Matthias January 5, 2015 at 12 o'clock 46 min

I recommend to all this ... it makes you think!

page 1 December 2014 to 16 hours 14 min
To write a comment