For those who have not yet got to know this application: We're proud to say it will enable you to show through your Facebook profile the products available on your Magento or Prestashop website. (For more information go to the Facebook category).
After long hours of development we decided to show you the result of the module before its expeditious launch.
So please don't hesitate to contact us for new features.
We ask you to be indulgent as the design isn't finalized.
Which features does the Facebook module for Magento and Prestashop have ?
Complete support of Magento and Prestashop e-commerce engines !
A template and theme engine.
Button "I love it".
Available languages : French, English, German, Spanish
Logo and slogan availability for your header.
Support for an image and text editor for your home page.
On each page your visitor can directly add to his cart your products and eventually be redirected to your running e-commerce shop.
How does the Facebook application work ?
For Prestashop : You have to install a module on your current online shop which will generate RSS feeds that in return will be read by our Facebook application.
This permits a secure link. In no case you'd need to enter your admin or database logins.
For Magento : We're using web services : You'd have to create a role enabling just the retrieval of the products and not the editing and assign a user to that role. This permits us to use your logins after providing them in total security. And in no means we'd be able to change your products.
The Web service can be slow depending on your hosting provider or the database. Our application will generate after your demand a list of files for your products and categories enabling them to be used in cache. This will permit a better and a lot faster user experience for your visitors.
In case the catalogue is changed on your shop, your Facebook application is one click away from being updated.
A Template engine ?
The requests regarding the customizing of the application design were highly requested, and so we have enabled the theme uses, therefore each shop can have its own theme.
« I Love It »
We have used Facebook's advantages through our application.
What better way to make your friend's friends know what they like?
There's a new button that's shaped like a heart next to each product which will permit to update your visitor's wall enabling his friends to know he liked/bought a particular product on your shop.. (mmm or maybe all of your products? .. )
Enough talking already! , let's get to the real preview !
In order for you to better understand our application, here's a comparison between our Facebook application and a Magento website with test products.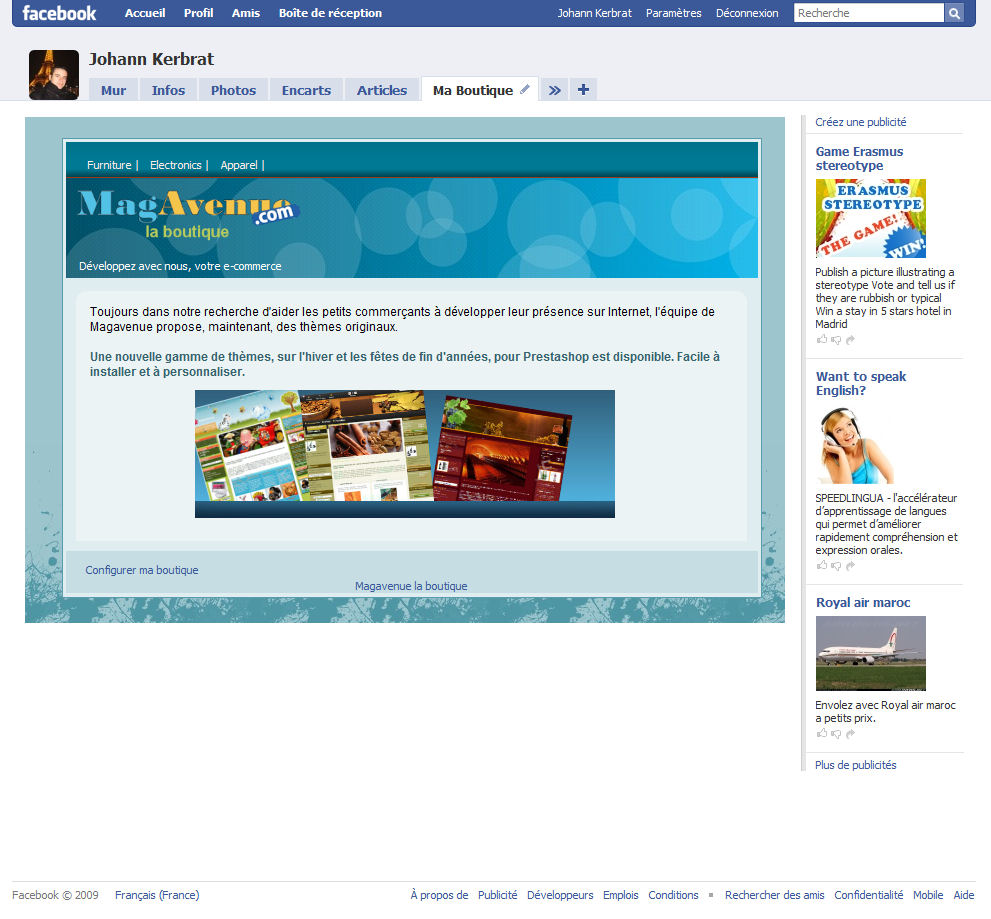 Your shop's home page :
A text editor can be used in order to personalize and upload your choice of images.
Of course the header is customizable permitting you to show your logo, title and slogan.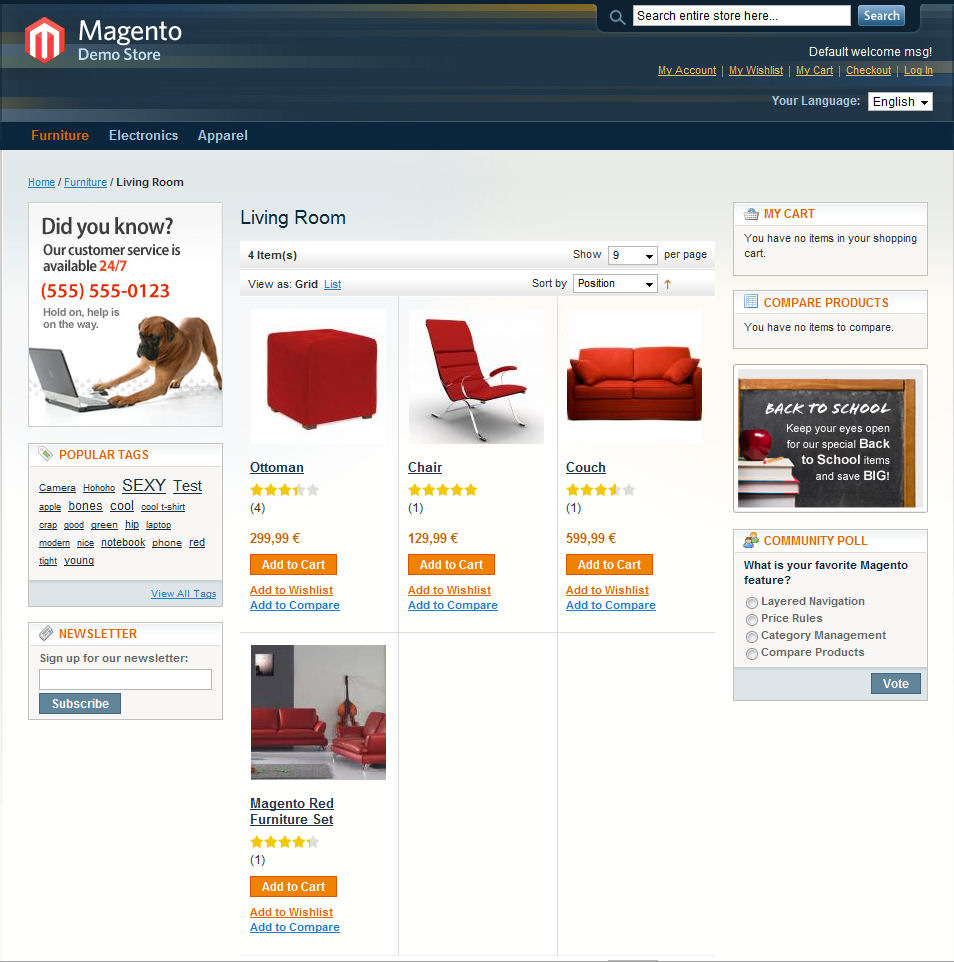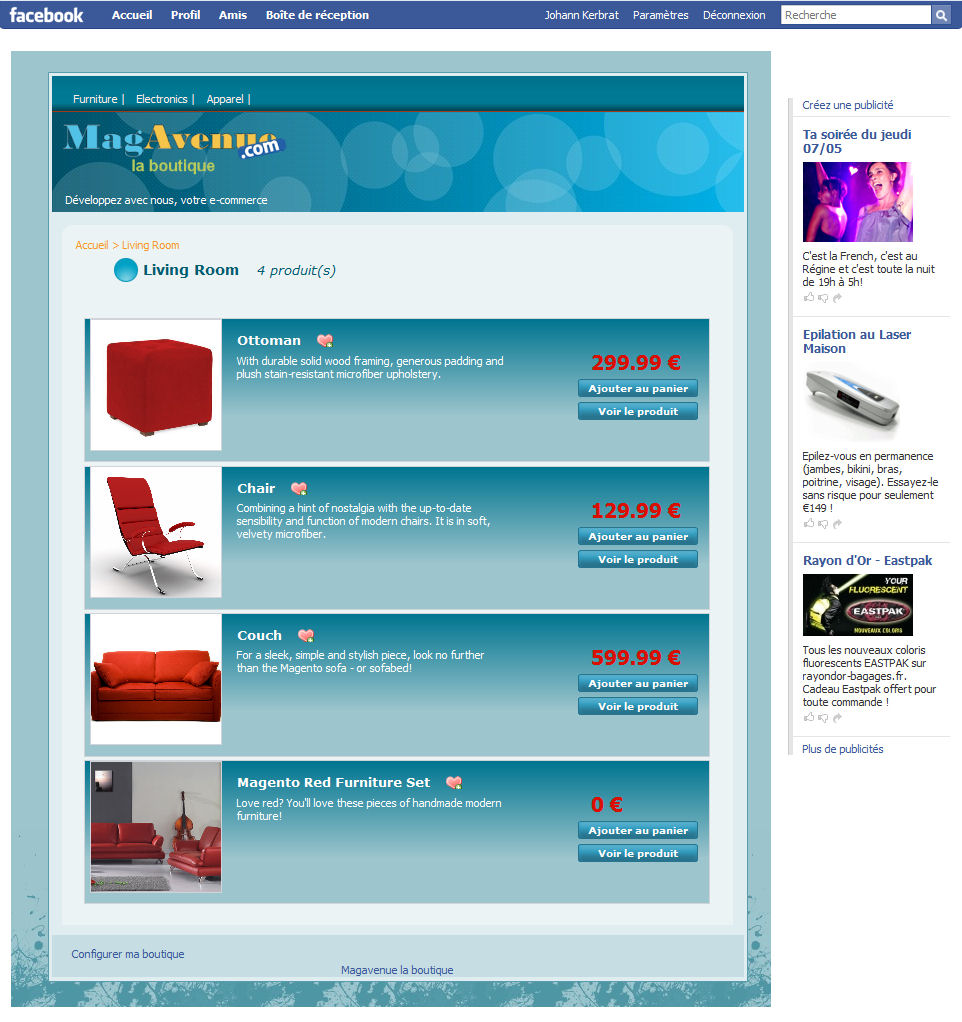 A first simple category (without any images or child categories);
You can already see the "I love it" button next to each product.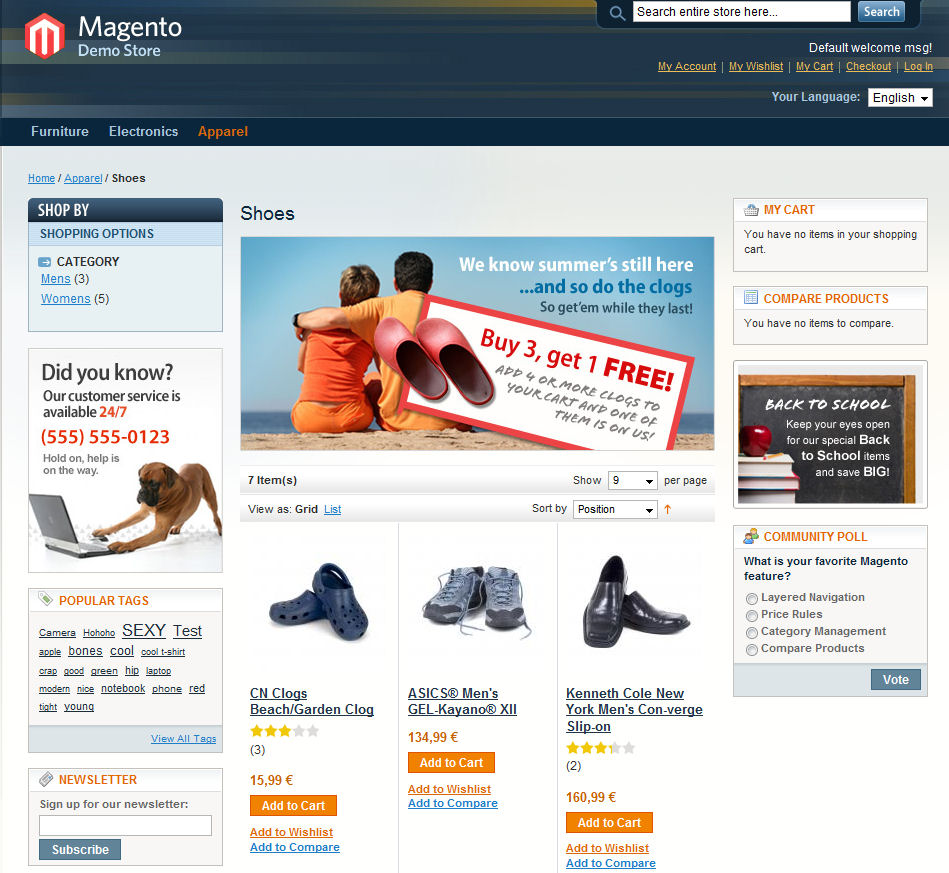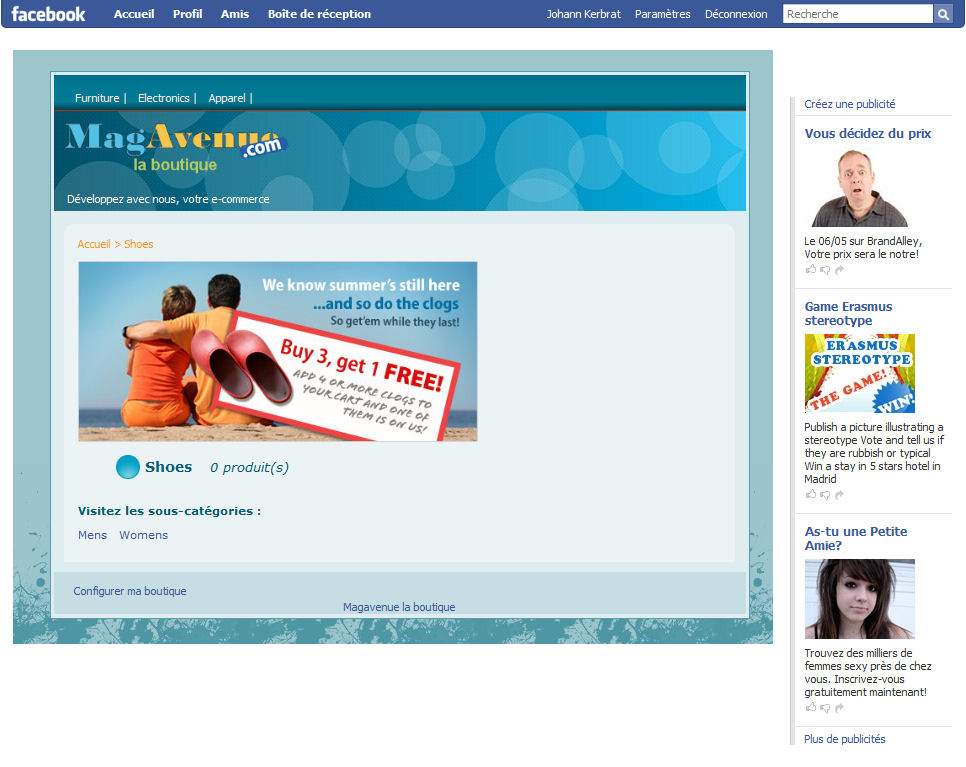 A second category (with an image and child categories assigned)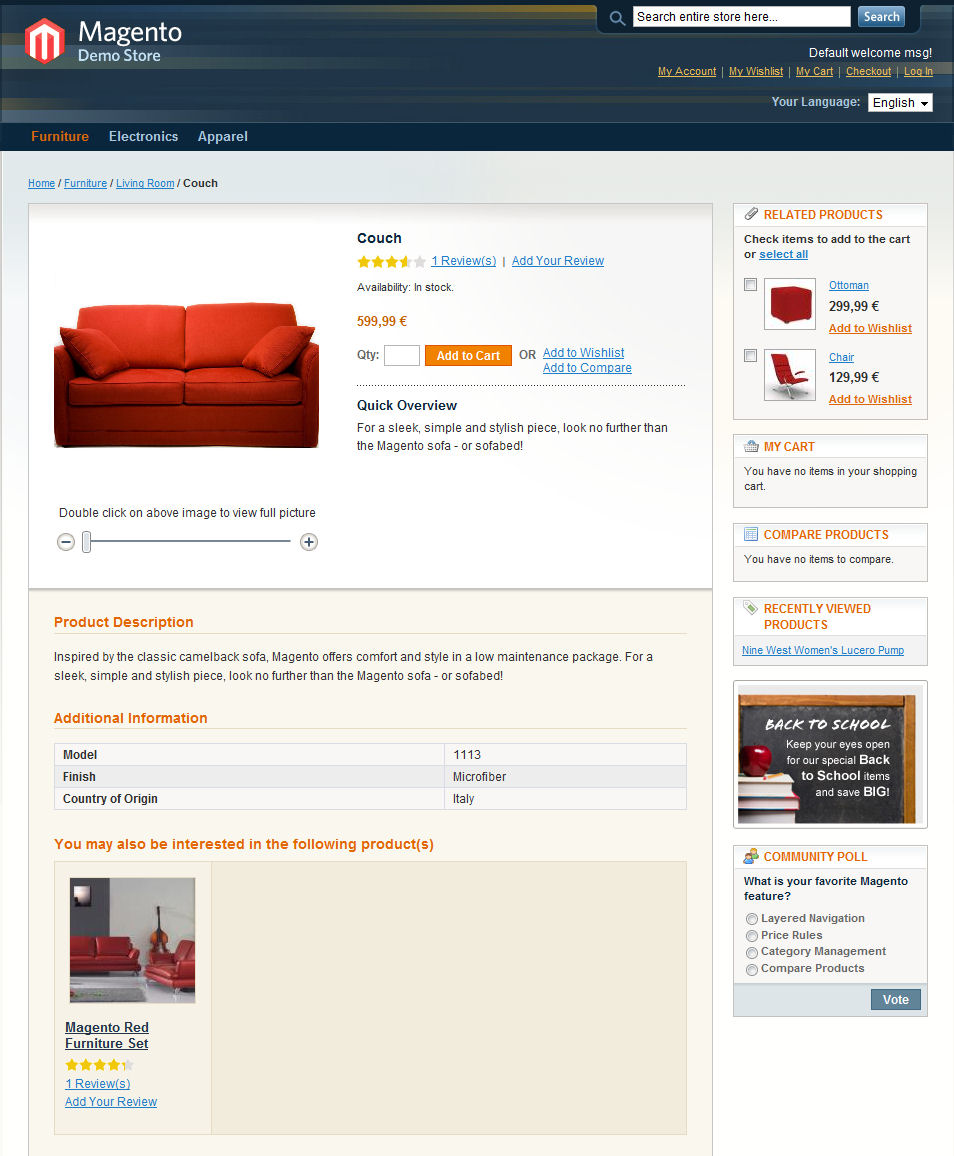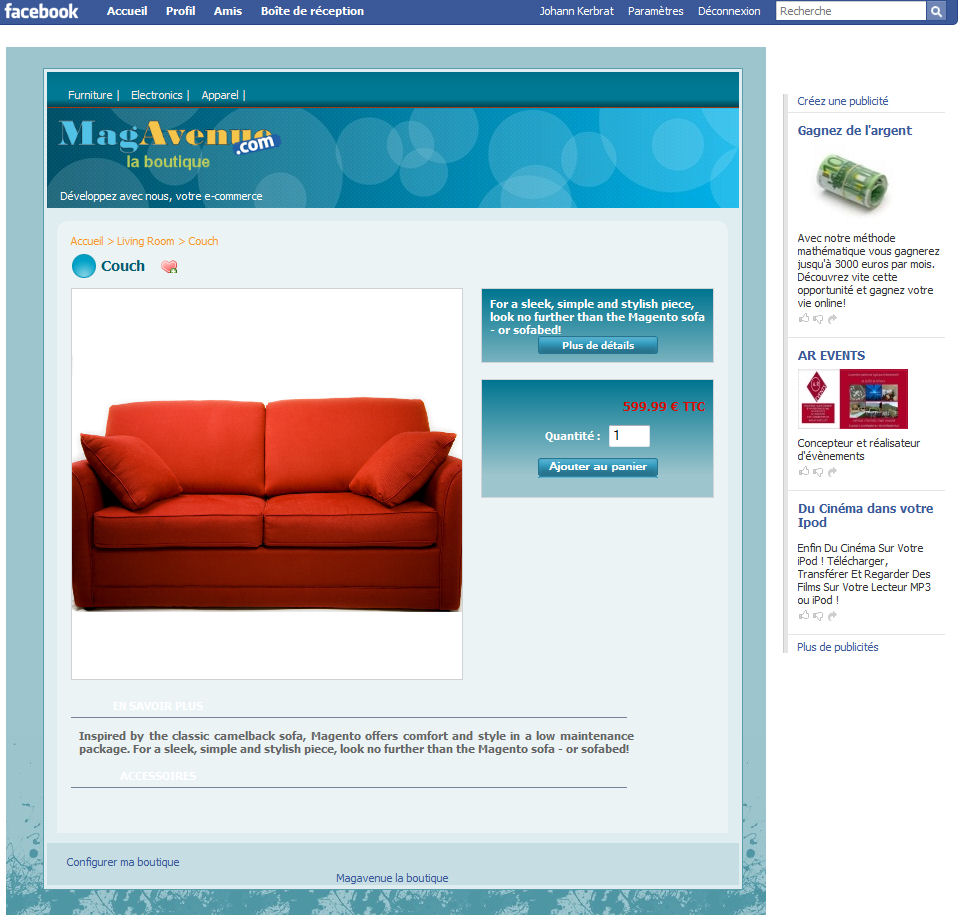 Viewing a Product :
The products related features aren't shown, but will be available when the application comes out.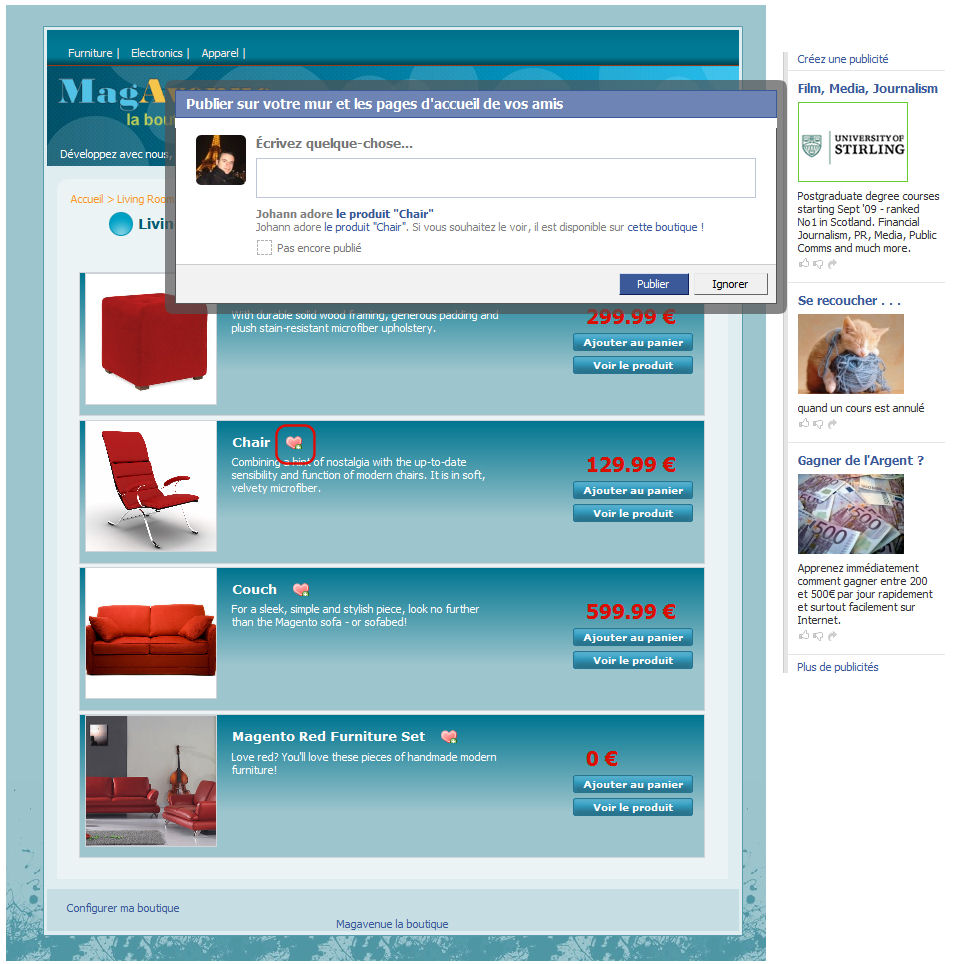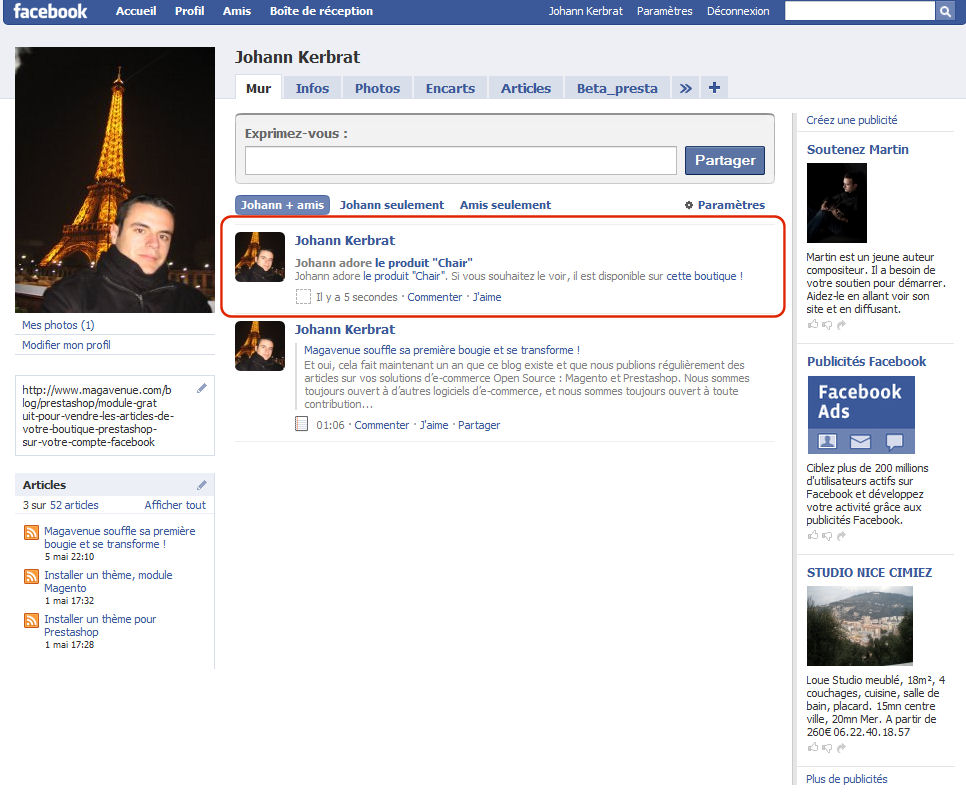 « I Love It » Feature :
The visitor clicks on the small heart, a confirmation box shows with possibility to add a message. As soon as validated his friends will know he loved your product from his wall and news feed!
Practical to say which product he loved or wants to buy !
Contribute, Stay informed !
If you happen to want a feature added to the application, or have any remarks, don't hesitate to comment!
Follow us on Twitter or by RSS FEED in order not to miss the launch of this application !